Expedition 349 - Placing whole-round cores in the core rack (photo courtesy of JRSO; CC0/PDM)

Expedition 353 - Bringing the last core of the expedition onto the catwalk (photo courtesy of JRSO; CC0/PDM)

Expedition 351 - Lowering the vibration-isolated television (VIT) system into the moonpool (photo courtesy of JRSO; CC0/PDM)

The JOIDES Resolution in port in Yokohama, Japan (photo courtesy of JRSO; CC0/PDM)

Expedition 352—Samples selected for postexpedition research (photo courtesy of JRSO; CC0/PDM)

Examining rock samples at the IODP Bremen Core Repository, Germany (photo by V. Diekamp/MARUM, CC BY-NC-ND)

D/V Chikyu (photo courtesy of JAMSTEC; CC BY-NC 4.0)

Exp 357 offshore science party (photo by Y. Morono, CC/BY-SA)

Deploying the MARUM seabed drill system MeBo70 for Exp 357 (photo by D. Smith/ECORD, CC/BY-SA)
This JOIDES Resolution expedition to the western Pacific Ocean will investigate the geochemistry, tectonics, and biology in an active subduction zone by coring the summits and flanks of serpentinite mud volcanoes on the forearc of the Mariana system, a non-accretionary convergent plate margin. Re-entry cones will be installed in cased boreholes at three sites to provide infrastructure for future installation of long-term borehole monitoring systems; the borehole observatory CORK in Hole 1200C will be retrieved. The sediment, rock, and fluid samples obtained during this expedition will be used to understand mass transport and geochemical cycling, track the spatio-temporal variability of subduction-related fluids and water-rock interactions, and study how physical properties and dehydration might control seismicity in non-accretionary convergent forearc systems. Biological activity at mud volcanoes will also be studied. 
Small variations in the modern-day Western Pacific Warm Pool, a large stable ocean region with tropical sea-surface temperatures located NE of Papua New Guinea, are known to perturb global atmospheric circulation patterns and are correlated with fluctuations in ocean conditions that modulate weather. Expedition 363 aboard the JOIDES Resolution explored the geological history of the Western Warm Pool and its spatiotemporal variability from the middle Miocene to recent times. Sediment cores were taken to provide high-resolution records comparable to those from cave deposits and ice cores, allowing scientists to infer the role of the WP Warm Pool in Holocene climate variability, its relation to monsoon periods and the Indonesian Throughflow current during the Pliocene-Pleistocene, and ocean conditions and chemistry since the middle Miocene (approximately 15 million years ago).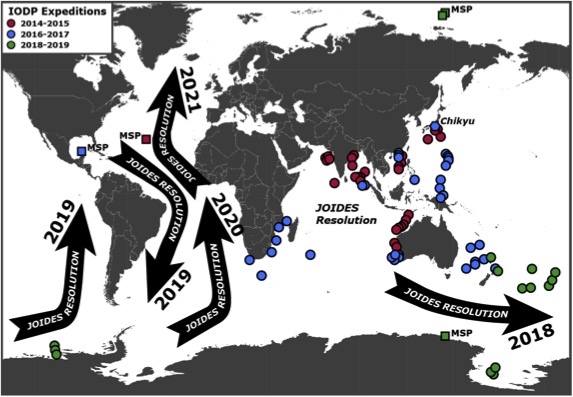 As approved by JRFB May 18, 2016. "The JRFB affirms that, based on current and anticipated proposal pressure, the JOIDES Resolution will follow a path from the southwestern Pacific Ocean, through the Southern Ocean, and into the Gulf of Mexico and the Equatorial and South Atlantic, for opportunities for drilling there in FY19 and continuing into FY20. The JRFB expects that the JR will then continue to operate in the general area of the Atlantic and adjacent seas in FY21." 
Expedition Videos