Expedition 349 - Placing whole-round cores in the core rack (photo courtesy of JRSO; CC0/PDM)

Expedition 353 - Bringing the last core of the expedition onto the catwalk (photo courtesy of JRSO; CC0/PDM)

Expedition 351 - Lowering the vibration-isolated television (VIT) system into the moonpool (photo courtesy of JRSO; CC0/PDM)

The JOIDES Resolution in port in Yokohama, Japan (photo courtesy of JRSO; CC0/PDM)

Expedition 352—Samples selected for postexpedition research (photo courtesy of JRSO; CC0/PDM)

Examining rock samples at the IODP Bremen Core Repository, Germany (photo by V. Diekamp, CC BY-NC-ND)

D/V Chikyu (photo courtesy of JAMSTEC; CC BY-NC 4.0)

Exp 357 offshore science party (photo by Y. Morono, CC/BY-SA)
NSF seeks Marine Geophysics PROGRAM DIRECTOR (apply by August 25): As a permanent employee or rotator, manage the merit review of proposals, work with scientists to foster outstanding innovative research, and help to oversee facilities supporting marine seismic research and cyberinfrastructure. For more information contact search committee chair This email address is being protected from spambots. You need JavaScript enabled to view it..
Thinking of applying to upcoming JR expeditions? Register now for informational webinars: Exp 371 (Tasman Frontier Subduction Initiation and Paleogene Climate), webinar on July 29; Exp 369 (Australia Cretaceous Climate and Tectonics), webinar on August 3; Exp 374 (Ross Sea West Antarctic Ice Sheet History), webinar on August 4. 
Outcomes from the ECORD Facility Board Meeting: The EFB discussed and ranked Mission-Specific Platform proposals at its June meeting and made 6 Consensus Statements. 
Outcomes from 2016 JR Facility Board Meeting: During its meeting May 17-18, the JRFB scheduled 7 new IODP expeditions to be carried out on the JOIDES Resolution (JR), made adjustments to the JR's long-term ship track, and made 21 Consensus Statements. 
IODP Expedition 362 aims to examine the role of incoming sediments and their potential effect on seismogenesis and tsunamogenesis in the North Sumatra seismogenic zone, the location of the destructive 2004 Mw 9.2 Indian Ocean earthquake. 
IODP Expedition 364 has successfully completed its drilling phase at the unique Chicxulub impact crater, Mexico, which is the only known terrestrial impact structure directly linked to a mass extinction event (the K-Pg mass extinction 66 million years ago). The final depth was 1335 meters below seafloor. The samples and data obtained will address the formation of large impact craters on Earth and other planets, and the effects of large impacts on Earth's environment and ecology. The Chicxulub impact crater is the best-preserved large impact structure on Earth, and the only terrestrial crater with a global ejecta layer.  Alberta article  *  SoundCloud (5 min) * facebook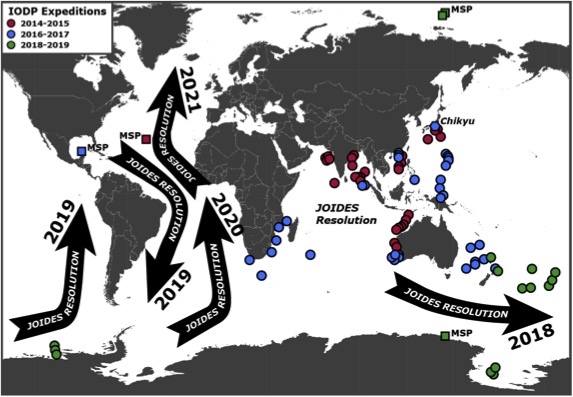 As approved by JRFB May 18, 2016. "The JRFB affirms that, based on current and anticipated proposal pressure, the JOIDES Resolution will follow a path from the southwestern Pacific Ocean, through the Southern Ocean, and into the Gulf of Mexico and the Equatorial and South Atlantic, for opportunities for drilling there in FY19 and continuing into FY20. The JRFB expects that the JR will then continue to operate in the general area of the Atlantic and adjacent seas in FY21." 
Expedition Videos
Expedition 365: Long Term
Bore Hole Monitoring System

Expedition 365: Exploring the
Fault Trace Part 3

Expedition 361:
SAFARI Episode 4

Expedition 361:
SAFARI Episode 3