Expedition 349 - Placing whole-round cores in the core rack (photo courtesy of JRSO; CC0/PDM)

Expedition 353 - Bringing the last core of the expedition onto the catwalk (photo courtesy of JRSO; CC0/PDM)

Expedition 351 - Lowering the vibration-isolated television (VIT) system into the moonpool (photo courtesy of JRSO; CC0/PDM)

The JOIDES Resolution in port in Yokohama, Japan (photo courtesy of JRSO; CC0/PDM)

Expedition 352—Samples selected for postexpedition research (photo courtesy of JRSO; CC0/PDM)

Examining rock samples at the IODP Bremen Core Repository, Germany (photo by V. Diekamp/MARUM, CC BY-NC-ND)

D/V Chikyu (photo courtesy of JAMSTEC; CC BY-NC 4.0)

Exp 357 offshore science party (photo by Y. Morono, CC/BY-SA)

Deploying the MARUM seabed drill system MeBo70 for Exp 357 (photo by D. Smith/ECORD, CC/BY-SA)
Keeping Our Focus on the Subseafloor: Eos opinion page on the value of marine seismic facilities. 
Expedition cancelled: The ECORD Science Operator regrettably announced the cancellation of Expedition 377 (Arctic Ocean Paleoceanography). 
Special Call: The ECORD Science Operator seeks applications from inorganic geochemists experienced in pore-water geochemistry for the onshore science party for Expedition 381 (approximately 4 weeks starting Jan 30, 2018). Apply by Oct 13 through your Program Member Office. 
New Publication: Volume 361 of the Proceedings of the IODP, Southern African Climates (Agulhas LGM Density Profile) is now available.  
Read NSF's Dear Colleague Letter seeking proposals to support workshops that build collaboration between NSF's Engineering and Marine Geology & Geophysics research communities to advance seafloor sensing capabilities. 
Save the Date during AGU! The IODP Town Hall Meeting will be held Wednesday evening, December 13. Details to follow. 
Wolf Berger, 1937-2017. Obituary from Scripps Institution of Oceanography. 
Interested in Exp 382? Sign up for the October 9 informational webinar for Iceberg Alley Paleoceanography and South Falkland Slope Drift.
The Spring 2017 issue of Ocean Discovery, a newsletter for the U.S. scientific ocean drilling community, is now available. 
New Scientific Drilling:  Scientific Drilling volume 22 is now available!
All three IODP facilities welcome new drilling proposals for the October 2017 deadline. It's not too early to think about JR's operating regions for 2021 and beyond!
ESO has issued an update re: Exp 373 (Antarctic Cenozoic Paleoclimate), which is now delayed into winter 2020-2021 at the earliest. 
Apply to sail for Expedition 379 (Amundsen Sea West Antarctic Ice Sheet History) by October 15, or for Expedition 382 (Iceberg Alley Paleoceanography and South Falkland Slope Drift) also by October 15. 
The Australasian IODP Regional Planning Workshop has issued a consensus statement on the need for site survey data for IODP. 
Outcomes (Consensus Statements and Action Items) from the 2017 JOIDES Resolution Facility Board Meeting are available. 
Schedule change: Exp 380 (NanTroSEIZE Frontal Thrust Borehole Monitoring System) has been delayed and is now expected to begin in January 2018. Applicants should contact their Program Member Office for status. 
See the Australia - New Zealand IODP Consortium 2016 Annual Report (with expedition summaries by ANZIC participants and much more).
Keep Digging: A BBC radio story featuring Expedition 360 co-chiefs Henry Dick & Chris MacLeod and colleagues on the quest to sample Earth's mantle (featuring Walter Munk).
WATCH and share the new outreach video The Whirling Waters of Antarctica: IODP scientist, Dr. Peter Bijl (Utrecht University), works to reconstruct the history of the Antarctic circumpolar current during the warm Eocene period.
A white paper on Seagoing Seismic Imaging and Scientific Ocean Drilling based on discussions in the IODP Forum is available.
Science Community volunteers sought for JRSO Laboratory Working Groups.
This expedition will recover sedimentary sequences at three sites in the Gulf of Corinth using the mission-specific platform Fugro Synergy to understand how continental rifting leads to the formation of ocean basins. These sediments will also provide details about the fault system associated with the active rift, its history, and current geohazard potential.  press release
This JR expedition off southwest Australia will use samples recovered from the Naturaliste Plateau and adjacent sedimentary Mentelle Basin to study the formation and collapse of the Cretaceous hothouse Earth, how ocean anoxic events are related to carbon perturbations, deep water formation during the Cretaceous, the influence of ocean circulation gateways around the Australian continent, and details of how plate motions have affected deposition of sediments in this area. Reports
In this JOIDES Resolution expedition, six seafloor sites in the complex region of the Tasman Sea between Australia and New Zealand, sometimes referred to as Zealandia, were cored and logged to infer the timing and geometry of subduction initiation along the Tonga Kermadec Arc approximately 50 million years ago, which is the largest subduction initiation event identified in plate tectonics. The recovered sediments will provide constraints on how the beginning of subduction here changed ocean conditions and connections between the polar ocean to the south and more tropical regions to the north.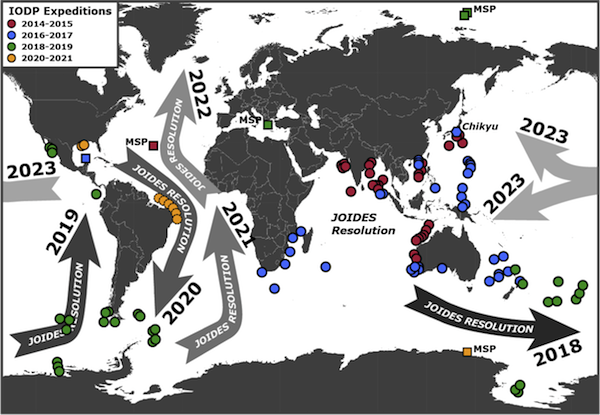 As approved by JRFB May 17, 2017: "The JRFB affirms that, based on current and anticipated proposal pressure, the JOIDES Resolution will follow a path from the Gulf of Mexico in FY2020 to the South Atlantic, starting to drill in that region. The JRFB expects that the JR will start to operate in the general area of the Equatorial and North Atlantic, Gulf of Mexico, Mediterranean, Caribbean, and the Arctic in FY2021 and through FY2022. Furthermore, the JRFB expects that the JR will complete its global circumnavigation in the Indo-Pacific region in FY2023." 
Expedition Videos