Expedition 349 - Placing whole-round cores in the core rack (photo courtesy of JRSO; CC0/PDM)

Expedition 353 - Bringing the last core of the expedition onto the catwalk (photo courtesy of JRSO; CC0/PDM)

Expedition 351 - Lowering the vibration-isolated television (VIT) system into the moonpool (photo courtesy of JRSO; CC0/PDM)

The JOIDES Resolution in port in Yokohama, Japan (photo courtesy of JRSO; CC0/PDM)

Expedition 352—Samples selected for postexpedition research (photo courtesy of JRSO; CC0/PDM)

Examining rock samples at the IODP Bremen Core Repository, Germany (photo by V. Diekamp/MARUM, CC BY-NC-ND)

D/V Chikyu (photo courtesy of JAMSTEC; CC BY-NC 4.0)

Exp 357 offshore science party (photo by Y. Morono, CC/BY-SA)

Deploying the MARUM seabed drill system MeBo70 for Exp 357 (photo by D. Smith/ECORD, CC/BY-SA)
ANZIC seeks a Program Scientist / earth scientist to manage ANZIC participation in IODP, taking over Neville Exon's present position. Their position is open to international applicants. 
See the Australia - New Zealand IODP Consortium 2016 Annual Report (with expedition summaries by ANZIC participants and much more).
Keep Digging: A BBC radio story featuring Expedition 360 co-chiefs Henry Dick & Chris MacLeod and colleagues on the quest to sample Earth's mantle (featuring Walter Munk).
WATCH and share the new outreach video The Whirling Waters of Antarctica: IODP scientist, Dr. Peter Bijl (Utrecht University), works to reconstruct the history of the Antarctic circumpolar current during the warm Eocene period.
Apply to sail for Exp 380 aboard Chikyu by April 28.
AGU Members - Propose to convene a Joint IODP-ICDP-related session for one of three overarching themes at the AGU Fall Meeting in New Orleans, LA - December 11-15, 2017. The deadline is April 19, 2017.
Attending EGU? The Joint IODP-ICDP Town Hall Meeting is Tuesday April 25 (19:00-20:00) in Room G2, and Session SSP 1.3, Achievements and Perspectives in Scientific Ocean and Continental Drilling, is Thursday April 27 (talks 13:30-17:00, posters 17:30-19:00).
Apply for the ECORD Summer School 2017: Current Controlled Sea Floor Archives: Coral Mounds and Contourites - August 28 - September 1, 2017. Application deadline is May 5, 2017.
Don't miss the special session at JpGU! Union Session U-03 - Discoveries from Subseafloor Sampling and Monitoring using Scientific Ocean Drilling is Monday, May 22, 2017 (9:00-12:15) in Room IC.
A new white paper on Seagoing Seismic Imaging and Scientific Ocean Drilling based on discussions in the IODP Forum is available.
Read NSF's Dear Colleague Letter on how the JR's Advanced Piston Coring capability will be made available to the U.S. community outside of IODP.
Science Community volunteers sought for JRSO Laboratory Working Groups.
In a pair of expeditions to the South China Sea aboard the JOIDES Resolution, scientists will explore the mechanisms of lithosphere extension during continental breakup by drilling four sites across a 300-km wide zone of highly extended, seaward thinning crust. The expedition will core through thick sedimentary sections to look for serpentinized mantle in the underlying continent-ocean-transition basement zone. The presence or absence of serpentinite will support competing models of plate rupture. Study of the sedimentary sections will constrain the timing of rifting, rate of extension, and crustal subsidence that resulted the present-day South China Sea, leading to a new understanding of how marginal basins begin and grow. daily reports
Expedition 366 to the western Pacific Ocean aboard the JOIDES Resolution investigated the geochemistry, tectonics, and biology in an active subduction zone by coring the summits and flanks of serpentinite mud volcanoes on the forearc of the Mariana system, a non-accretionary convergent plate margin. Re-entry cones were installed in cased boreholes at three sites to provide infrastructure for future installation of long-term borehole monitoring systems. The sediment, rock, and fluid samples obtained during this expedition will be used to understand mass transport and geochemical cycling, track the spatio-temporal variability of subduction-related fluids and water-rock interactions, and study how physical properties and dehydration might control seismicity in non-accretionary convergent forearc systems.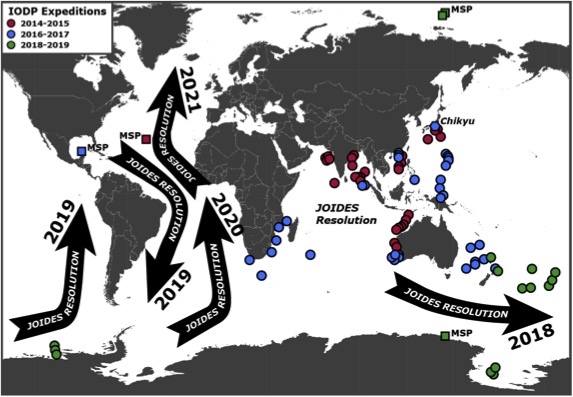 As approved by JRFB May 18, 2016. "The JRFB affirms that, based on current and anticipated proposal pressure, the JOIDES Resolution will follow a path from the southwestern Pacific Ocean, through the Southern Ocean, and into the Gulf of Mexico and the Equatorial and South Atlantic, for opportunities for drilling there in FY19 and continuing into FY20. The JRFB expects that the JR will then continue to operate in the general area of the Atlantic and adjacent seas in FY21." 
Expedition Videos