Expedition 349 - Placing whole-round cores in the core rack (photo courtesy of JRSO; CC0/PDM)

Expedition 353 - Bringing the last core of the expedition onto the catwalk (photo courtesy of JRSO; CC0/PDM)

Expedition 351 - Lowering the vibration-isolated television (VIT) system into the moonpool (photo courtesy of JRSO; CC0/PDM)

The JOIDES Resolution in port in Yokohama, Japan (photo courtesy of JRSO; CC0/PDM)

Expedition 352—Samples selected for postexpedition research (photo courtesy of JRSO; CC0/PDM)

Examining rock samples at the IODP Bremen Core Repository, Germany (photo by V. Diekamp/MARUM, CC BY-NC-ND)

D/V Chikyu (photo courtesy of JAMSTEC; CC BY-NC 4.0)

Exp 357 offshore science party (photo by Y. Morono, CC/BY-SA)

Deploying the MARUM seabed drill system MeBo70 for Exp 357 (photo by D. Smith/ECORD, CC/BY-SA)
Faculty position in Marine Geophysics, Scripps Institution of Oceanography: Apply by Nov 23. 
ECORD Facility Board seeks new science members: Active leading scientists from ECORD countries and the US are invited to apply by December 2. ECORD Facility Board science members provide key input for planning IODP's ECORD-operated Mission-Specific Platform expeditions. 
New SEP Co-Chair selected: The JOIDES Resolution Facility Board has named University of Texas geophysicist Sean Gulick as the next co-chair of the Science Evaluation Panel. Sean will replace outgoing co-chair Dave Mallinson effective October 1.  
New Scientific Drilling:  Scientific Drilling volume 21 is now available!
NSF Dear Colleague letter seeks expressions of interest from U.S. institutions/organizations re: providing marine seismic capabilities for academic research. This capability is critical for IODP. Written responses due Nov 11.
IODP Town Hall Meeting during Fall AGU: Wednesday, Dec 14, at the JW Marriott San Francisco. More...
Small variations in the modern-day Western Pacific Warm Pool, a large stable ocean region with tropical sea-surface temperatures located NE of Papua New Guinea, are known to perturb global atmospheric circulation patterns and are correlated with fluctuations in monsoons and changes in the El Niño Southern Oscillation (ENSO), a modulator of our weather. Expedition 363 aboard the JOIDES Resolution will explore the geological history of the Western Warm Pool and its spatiotemporal variability from the middle Miocene to recent times. Sediment cores from 7 sites should provide high-resolution records comparable to those from cave deposits and ice cores, allowing scientists to infer the role of the WP Warm Pool in Holocene climate variability, its relation to monsoon periods and the Indonesian Throughflow current during the Pliocene-Pleistocene, and ocean conditions and chemistry since the middle Miocene (approximately 15 million years ago).
Pushing the limits of knowledge about life on Earth, scientists aboard Chikyu and at the Kochi Core Center are exploring the complex response to temperature of microbial communities living in the seafloor near the Muroto Transect, a high-heat flow area of the Nankai Trough. The expedition will drill the entire sedimentary depth and into ~50 m of basaltic basement for a total target depth of 1210 m beneath seafloor, retrieving core samples at various temperature intervals and logging the temperature depth profile in detail. The team will also install a Temporary Temperature Observatory (TTO), a complex string of about 50 sensors whose exact design will be guided the detailed formation structure revealed by preliminary analysis of the cores taken during drilling. daily reports  *  science FAQs  *  scientist blogs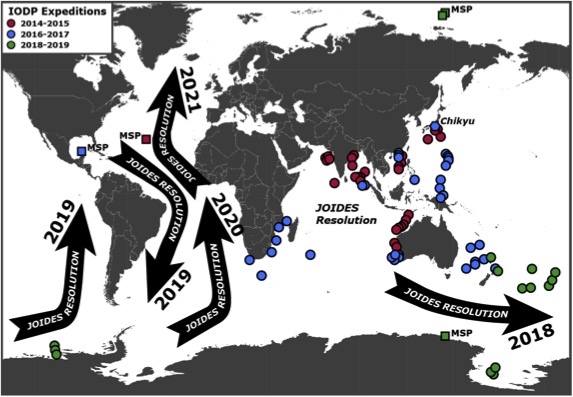 As approved by JRFB May 18, 2016. "The JRFB affirms that, based on current and anticipated proposal pressure, the JOIDES Resolution will follow a path from the southwestern Pacific Ocean, through the Southern Ocean, and into the Gulf of Mexico and the Equatorial and South Atlantic, for opportunities for drilling there in FY19 and continuing into FY20. The JRFB expects that the JR will then continue to operate in the general area of the Atlantic and adjacent seas in FY21." 
Expedition Videos