SiO7 Back Online: The Chiyku IODP data website SiO7 is back online after undergoing a security review. Please contact the Mare3 staff for more information.
IODP Town Hall: Join the conversation about the 2050 Science Framework and future planning at the town hall at the AGU Fall Meeting on December 15 at 4pm PST.
Consensus and Action Items from the August 2020 JOIDES Resolution Facility Board meeting and the September 2020 IODP Forum and PMO meetings are available.
New Policy: The IODP Code of Conduct and Anti-Harrassment Policy has been approved by IODP's Program Member Organizations and is now posted with other IODP-wide policy documents.
Welcome: Charna Meth has been selected as the new Executive Director of the IODP Science Support Office at Scripps Institution of Oceanography. We thank Holly Given for her service and commitment to the IODP, and congratulate her on her retirement.
Expeditions schedule updated: The JR Science Operator has updated its operations schedule for 2021 and 2022 in light of decisions by the JR Facility Board and constraints due to COVID-19.
A new version of the IODP Proposal Submission Guidelines which describes the joint submission and review process for "Land 2 Sea" drilling proposals implementing jointly by IODP and ICDP was approved in July.
About Sample Requests: IODP sample requests are being accepted but completion and shipment of requests may be delayed due to Covid-19. For the current status of each IODP core repository, contact the repository curator. 
The JOIDES Resolution is installing reentry systems at five sites in advance of future expeditions. The sites form a transect starting near the Mid-Atlantic Ridge and moving away into progressively older basaltic crust. Future expeditions will examine how crustal alteration proceeds over time.  
Expedition 384 performed engineering testing at sites of opportunity in the North Atlantic. Testing focused on deep (>1 km) drilling and coring in igneous ocean crust, following some recommendations made by the Deep Crustal Drilling Engineering Working Group and the JR Facility Board.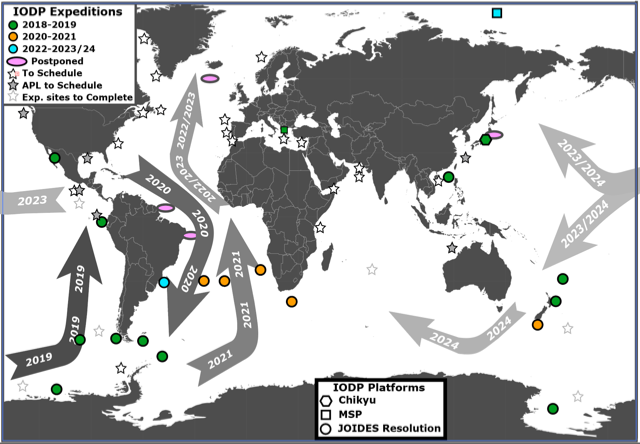 As approved by the JRFB in May 2020.
Expedition Videos