Expedition 349 - Placing whole-round cores in the core rack (photo courtesy of JRSO; CC0/PDM)

Expedition 353 - Bringing the last core of the expedition onto the catwalk (photo courtesy of JRSO; CC0/PDM)

Expedition 351 - Lowering the vibration-isolated television (VIT) system into the moonpool (photo courtesy of JRSO; CC0/PDM)

The JOIDES Resolution in port in Yokohama, Japan (photo courtesy of JRSO; CC0/PDM)

Expedition 352—Samples selected for postexpedition research (photo courtesy of JRSO; CC0/PDM)

Examining rock samples at the IODP Bremen Core Repository, Germany (photo by V. Diekamp/MARUM, CC BY-NC-ND)

D/V Chikyu (photo courtesy of JAMSTEC; CC BY-NC 4.0)

Exp 357 offshore science party (photo by Y. Morono, CC/BY-SA)

Deploying the MARUM seabed drill system MeBo70 for Exp 357 (photo by D. Smith/ECORD, CC/BY-SA)
Apply to sail by October 11 for IODP Expedition 396, Mid-Norwegian Continental Margin Magmatism.
Welcome: Charna Meth has been selected as the new Executive Director of the IODP Science Support Office at Scripps Institution of Oceanography. 
Expeditions schedule updated: The JR Science Operator has updated its operations schedule for 2021 and 2022 in light of decisions by the JR Facility Board and constraints due to COVID-19.
Consensus statements and action items from the August 2020 meeting of the JOIDES Resolution Facility Board have been posted. 
The final draft of the new science framework, Exploring Earth through Scientific Ocean Drilling, is now available.  
Read the update from the JR Science Operator on ship repairs and the outlook for a return to operations. 
A new version of the IODP Proposal Submission Guidelines which describes the joint submission and review process for "Land 2 Sea" drilling proposals implementing jointly by IODP and ICDP was approved in July.
Director, IODP Science Support Office: UCSD has posted a vacancy announcement to replace Holly Given, who will retire in October. 
Paul Dauphin: Former National Science Foundation Program Director Paul Dauphin, who together with Bruce Malfait led the Ocean Drilling Program team at NSF for over 20 years, passed away on May 23 from complications of chronic obstructive pulmonary disease (COPD). Contact This email address is being protected from spambots. You need JavaScript enabled to view it. for more information.
Expedition postponed: Expedition 395, Reykjanes Mantle Convection and Climate, has been postponed due to the COVID-19 pandemic.
About Sample Requests:  IODP sample requests are being accepted but completion and shipment of requests may be delayed due to Covid-19. For the current status of each IODP core repository, contact the repository curator.
Multiple expeditions postponed! Many expeditions have been postponed due to platform repairs, complications of drill sites in international waters, and the global health emergency. For more information see the Expedition Schedule or contact the platform science operator.
Facility Board and committee meetings postponed! All 2020 Facility Board meetings and the June Science Evaluation Panel meeting have been affected by the global health emergency. See Next IODP Meetings column at right or contact science <at> iodp.org with any questions. 
2020 Forum venue finalized: The next meeting of the IODP Forum will be held September 22-24 at Lamont-Doherty Earth Observatory in Palisades, New York USA. 
New Policy: The IODP Code of Conduct and Anti-Harrassment Policy has been approved by IODP's Program Member Organizations and is now posted with other IODP-wide policy documents.
Report: The final report of the ANZIC community's Ocean Planet Workshop for planning the future framework of scientific ocean drilling is available. 
Expedition 384 will perform engineering testing at sites of opportunity in the North Atlantic. Testing will focus on deep (>1 km) drilling and coring in igneous ocean crust, following some recommendations made by the Deep Crustal Drilling Engineering Working Group and the JR Facility Board.
This JOIDES Resolution expedition studied climate and oceanographic conditions during the Cenozoic by targeting sediments deposited during the very warm late Paleocene and early Eocene in the southern Pacific Ocean.
This JOIDES Resolution expedition to the Gulf of California studied the relationship of tectonics, magmatism, sedimentation, carbon cycling, and microbial activity in an active rift basin and hydrothermal area by drilling and coring igneous sills emplaced into organic-rich sediments.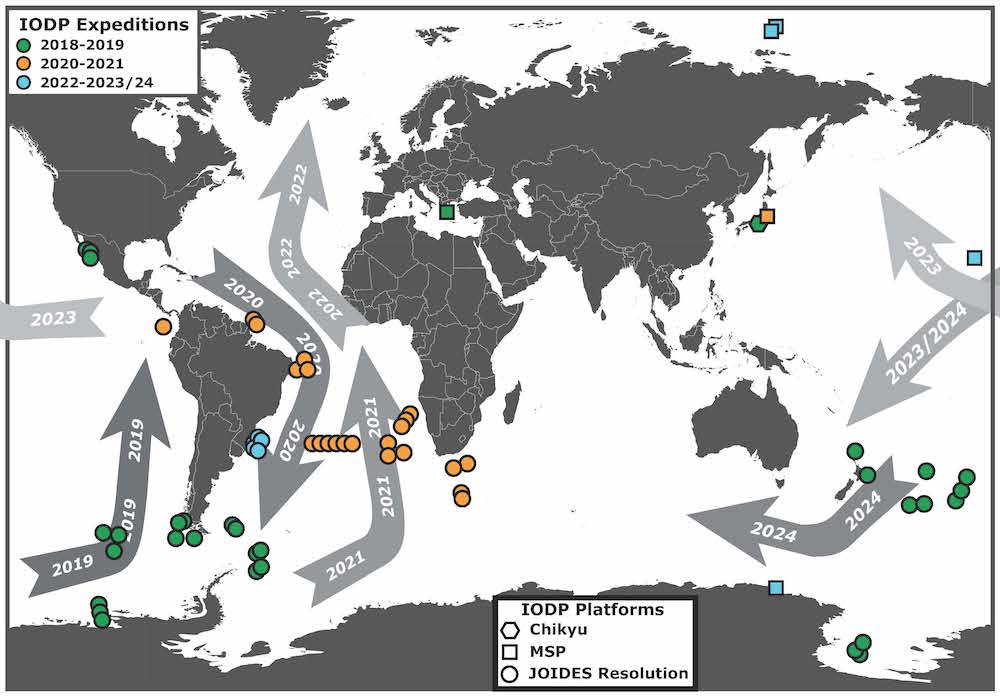 As approved by the JRFB in May 2019: "The JR is expected to operate in the Equatorial and North Atlantic, Gulf of Mexico, Mediterranean, Caribbean, and the Arctic in 2021 and 2022, and to complete its circumnavigation with a return to the eastern Pacific region by 2023, the western Pacific in 2023-2024, and potentially the Indian Ocean by the end of 2024." 
Expedition Videos