Applications to sail on IODP expeditions are submitted through the applicant's Program Member Office (PMO). Application requirements may vary by PMO, and they may have different deadlines than those posted below. An individual scientist's PMO is determined by the location of their employer or primary academic affiliation, not by citizenship or adjunct status. 
JOIDES Resolution Science Operator
Expedition Dates: December 10, 2023 - February 9, 2024
Application Deadline: December 1, 2022
JOIDES Resolution Science Operator
Expedition Dates: February 9, 2024 - April 8, 2024
Application Deadline: December 1, 2022
Abstract from the Scientific Prospectus: The South Atlantic Transect (SAT) is a multidisciplinary scientific ocean drilling project that comprises two International Ocean Discovery Program (IODP) expeditions (390 and 393). These expeditions will recover complete sedimentary sections and the upper ~250 m of the underlying oceanic crust along a slow/intermediate spreading rate Mid-Atlantic Ridge crustal flow line at ~31°S. The sediments along this transect were originally spot cored more than 50 y ago during Deep Sea Drilling Project Leg 3 to help verify the theories of seafloor spreading and plate tectonics. Given dramatic advances in drilling technology and analytical capabilities since Leg 3, many high-priority scientific objectives can be addressed by revisiting the transect. The SAT expeditions will target six primary sites on 7, 15, 31, 49, and 61 Ma ocean crust, which will fill critical gaps in our sampling of intact in situ ocean crust with regards to crustal age, spreading rate, and sediment thickness. These sections are required to investigate the history of the low-temperature hydrothermal interactions between the aging ocean crust and the evolving South Atlantic Ocean and quantify past hydrothermal contributions to global geochemical cycles. The transect traverses the previously unexplored sediment- and basalt-hosted deep biosphere beneath the South Atlantic Gyre from which samples are essential to refine global biomass estimates and investigate microbial ecosystems' responses to variable conditions in a low-energy gyre and aging ocean crust. The drilling operations will include installation of reentry cones and casing to establish legacy boreholes for future basement hydrothermal and microbiological experiments. The transect is also located near World Ocean Circulation Experiment Line A10, providing access to records of carbonate chemistry and deepwater mass properties across the western South Atlantic through key Cenozoic intervals of elevated atmospheric CO2 and rapid climate change. Reconstruction of the history of the deep western boundary current and deepwater formation in the Atlantic basins will yield crucial data to test hypotheses regarding the role of evolving thermohaline circulation patterns in climate change and the effects of tectonic gateways and climate on ocean acidification.
Below is a sample of recent articles featuring IODP expeditions, samples, data, or related research. Please This email address is being protected from spambots. You need JavaScript enabled to view it. to request to post an article on this page. Journalists and communication professionals are encouraged to speak with the program's Media Contacts for photos or others resources.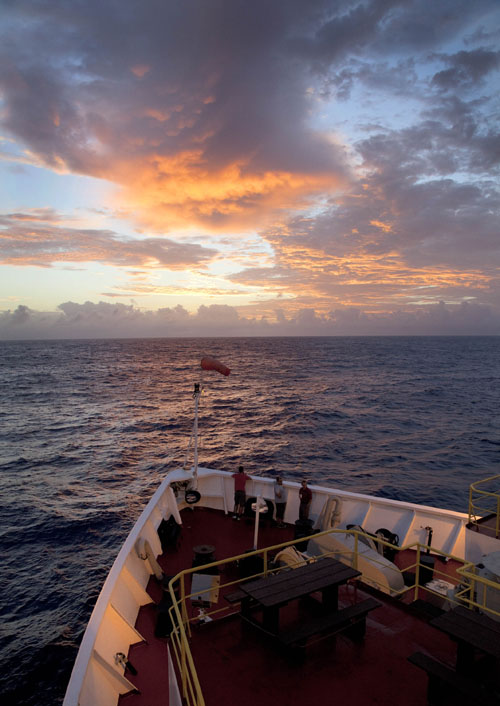 International Ocean Discovery Program (2013- )
(last update April 2022)
 
JOIDES Resolution
(through 396)
Chikyu
(through 380)
Mission-Specific Platforms
(through 386)
Program Total
Expeditions Completed
36
4
4
44
Sites Visited
163
6
28
197
Holes Drilled
460
19
80
559
Cores Recovered
11,617
204
929
12,750
Deepest Hole Penetrated (m)
1,806
1,180
1,335
1,806
Shallowest Water Depth (m)
98
 1,939
20
20
Deepest Water Depth (m)
5,023
4,776
8,023
8,023
Core Recovery (m)
65,860
1,092
3,374
70,326
| | | | | |
| --- | --- | --- | --- | --- |
|   | JOIDES Resolution | Chikyu | Mission-Specific Platforms | Program Total |
| Expeditions Completed | 35 | 14 | 5 | 54 |
| Sites Visited | 145 | 38 | 67 | 250 |
| Holes Drilled | 439 | 95 | 115 | 649 |
| Cores Recovered | 8,491 | 927 | 2,676 | 12,094 |
| Deepest Hole Penetrated (m) | 1,928 | 3,059 | 755 | 3,059 |
| Shallowest Water Depth (m) | 95.5 | 885 | 23 | 23 |
| Deepest Water Depth (m) | 5,708 | 6,929 | 1.288 | 6,929 |
| Core Recovery (m) | 57,289 | 4,886 | 4,131 | 66,306 |
| | |
| --- | --- |
|   | JOIDES Resolution |
| Expeditions Completed | 111 |
| Sites Visited | 669 |
| Holes Drilled | 1,797 |
| Cores Recovered | 35,772 |
| Deepest Hole Penetrated (m) | 2,111 |
| Shallowest Water Depth (m) | 37.5 |
| Deepest Water Depth (m) | 5,980 |
| Core Recovery (m) | 222,704 |
| | |
| --- | --- |
|   | Glomar Challenger |
| Expeditions Completed | 96 |
| Sites Visited | 624 |
| Holes Drilled | 1,053 |
| Cores Recovered | 19,119 |
| Deepest Hole Penetrated (m) | 1,741 |
| Deepest Water Depth (m) | 7,044 |
| Core Recovery (m) | 97,056 |
Last updated October 10, 2022
Expedition Name

#

Dates

Ports

Operator

Iberian Margin Paleoclimate
397
Oct. 11 

–

 Dec. 11, 2022
Lisbon / Tarragona
JRSO
Hellenic Arc Volcanic Field
398
Dec. 11, 2022 

– 

Feb. 10, 2023
Tarragona / Heraklion
JRSO
Building Blocks of Life, Atlantis Massif
399
April 12 

– 

June 12, 2023
Ponta Delgada / Ponta Delgada
JRSO
Reykjanes Mantle Convection and Climate
395
June 12 

– 

Aug. 12, 2023
Ponta Delgada / St. Johns
JRSO
NW Greenland Glaciated Margin
400
Aug. 12 

– 

Oct. 12, 2023
St. Johns / St. Johns
JRSO
Hawaiian Drowned Reefs
389
Sept. 

– 

Oct. 2023
TBD

ESO

Mediterranean-Atlantic Gateway Exchange
401
Dec. 10, 2023 

– 

Feb. 9, 2024
Amsterdam / Napoli
JRSO
Tyrrhenian Continent-Ocean Transition
402
Feb. 9 

– 

Apr. 8, 2024
Napoli / Napoli
JRSO
Eastern Fram Strait Paleo-archive
403
June 4 

– 

Aug. 2, 2024
Reykjavik / Reykjavik
JRSO
Arctic-Atlantic Gateway Paleoclimate
404
Aug. 2 - Sept. 30, 2024
Reykjavik / Reykjavik
JRSO
Japan Trench Tsunamigenesis
405
TBD (~mid-2024)
TBD
MarE3
Antarctic Cenozoic Paleoclimate
373
postponed
TBD
ESO
Arctic Ocean Paleoceanography
377
postponed
TBD
ESO
Amazon Continental Margin
387
postponed
TBD
JRSO
Equatorial Atlantic Gateway 
388
postponed
TBD
JRSO
Rio Grande Cone Methane and Carbon Cycling
394
postponed
TBD 
JRSO
Completed Expeditions (2014- )
Expedition Name

#

Dates

Ports

Operator

South China Sea Tectonics
349
Jan. 26 

– 

Mar. 30, 2014
Hong Kong / Keelung
USIO
Izu Bonin Mariana: Rear Arc
350
Mar. 30 

– 

May 30, 2014
Keelung / Yokohama
USIO
Izu Bonin Mariana: Arc Origins
351
May 30 

– 

July 30, 2014
Yokohama / Yokohama
USIO
Izu Bonin Mariana: Forearc
352
July 30 

– 

Sep. 29, 2014
Yokohama / Keelung
USIO
Indian Monsoon Rainfall
353
Nov. 29, 2014 

– 

Jan. 29, 2015
Singapore / Singapore
JRSO
Bengal Fan
354
Jan. 29 

– 

Mar. 31, 2015
Singapore / Columbo
JRSO
Arabian Sea Monsoon (CPP)
355
Mar. 31 

– 

May 31, 2015
Columbo / Mumbai
JRSO
Indonesian Throughflow
356
July 31 

– 

Sept. 30, 2015
Freemantle / Darwin
JRSO
Atlantis Massif Seafloor Processes: Serpentinization and Life
357
Oct. 26 

– 

Dec. 11, 2015
Southampton / Southampton
ESO
NanTroSEIZE: Plate Boundary Deep Riser 4
358
Oct. 7, 2018 

– 

Mar. 31, 2019
Shimizu / Shimizu
CDEX
Maldives Monsoon and Sea Level
359
Sept. 30 

– 

Nov. 30, 2015
Darwin / Colombo
JRSO
SW Indian Ridge Lower Crust/Moho
360
Nov. 30, 2015 

– 

Jan. 30, 2016
Colombo / Port Louis
JRSO
Southern African Climates & Agulhas Current Density Profile
361
Jan. 30 

– 

Mar. 31, 2016
Port Louis / Cape Town
JRSO
Transit / Hole U1473 Remediation
362T
July 4 

– 

Aug. 6, 2016
Cape Town / Colombo
JRSO
Sumatra Seismogenic Zone
362
Aug. 6 

– 

Oct. 6, 2016
Colombo / Singapore
JRSO
Western Pacific Warm Pool 
363
Oct. 6 

– 

Dec. 8, 2016
Singapore / Guam
JRSO
Chicxulub K-T Impact Crater
364
Apr. 5 

– 

May 31, 2016
Progreso, Mexico
ESO
NanTroSEIZE: Shallow Megasplay Long-Term Borehole
365
Mar. 26 

– 

Apr. 27, 2016
Shimizu / Shimizu
CDEX
Mariana Convergent Margin
366
Dec. 8, 2016 

– 

Feb. 7, 2017
Guam / Hong Kong
JRSO
South China Sea Rifted Margin A 
367
Feb. 7 

– 

Apr. 9, 2017
Hong Kong / Hong Kong 
JRSO
South China Sea Rifted Margin B 
368
Apr. 9 

– 

June 11, 2017
Hong Kong / Shanghai
JRSO
Return to Hole U1503A (South China Sea)
368X
Nov. 15 

– 

Dec. 8, 2018
Hong Kong / Hong Kong
JRSO
Australia Cretaceous Climate and Tectonics
369
Sep. 26 

– 

Nov. 26, 2017
Hobart / Fremantle
JRSO
Temperature Limit of the Deep Biosphere off Muroto
370
Sep. 10 

– 

Nov. 10, 2016
Shimizu / Kochi
CDEX
Tasman Frontier Subduction Initiation & Paleogene Climate
371
July 27 

– 

Sep. 26, 2017
Townsville / Hobart
JRSO
Creeping Gas Hydrate Slides and Hikurangi LWD
372
Nov. 26, 2017 

– 

Jan. 4, 2018
Fremantle / Lyttelton
JRSO
Ross Sea West Antarctic Ice Sheet History
374
Jan. 4 

– 

Mar. 8, 2018
Lyttelton / Lyttelton
JRSO
Hikurangi Subduction Margin Observatory
375
Mar. 8 

– 

May 5, 2018
Lyttelton / Auckland
JRSO
Brothers Arc Flux
376
May 5 

– 

July 5, 2018
Auckland / Auckland
JRSO
Amundsen Sea West Antarctic Ice Sheet History
379
Jan. 18 

– 

Mar. 20, 2019
Punta Arenas / Punta Arenas
JRSO
NanTroSEIZE: Frontal Thrust Borehole Monitoring System 
380
Jan. 12 

– 

Feb. 7, 2018
Shimizu / Shimizu
CDEX
Corinth Active Rift Development
381
Oct. 23 

– 

Dec. 18, 2017
Corinth / Corinth
ESO
Iceberg Alley and Subantarctic Ice and Ocean Dynamics
382
Mar. 20 

– 

May 20, 2019
Punta Arenas / Punta Arenas
JRSO
Dynamics of Pacific Antarctic Circumpolar Current
383
May 20 

– 

July 20, 2019
Punta Arenas / Punta Arenas
JRSO
Panama Basin Crustal Architecture & Restoring Hole 896A
385T
Aug. 18 

– 

Sep. 16, 2019
Antofagasta / San Diego
JRSO
Guaymas Basin Tectonics and Biosphere
385 
Sept. 16 

– 

Nov. 16, 2019
San Diego / San Diego
JRSO
South Pacific Paleogene Climate
378
Jan. 3 

– 

Feb. 6, 2020
Fiji / Papeete
JRSO
JOIDES Resolution Engineering Testing
384
July 20 

– 

Sep. 5, 2020
Kristiansand / Las Palmas
JRSO
South Atlantic Transect Reentry Installations
390C
Oct. 5 

– 

Dec. 5, 2020
Kristiansand / Cape Town
JRSO
Complete South Atlantic Transect Reentry Installations
395E
April 6 

– 

June 6, 2021
Cape Town / Reykjavik
JRSO
Japan Trench Paleoseismology
386
Apr. 13 

– 

June 1, 2021
Yokosuka / Yokosuka
ESO
Reykjanes Mantle Convection and Climate
395C
June 6 

– 

Aug. 6, 2021
Reykjavik / Reykjavik
JRSO
Mid-Norwegian Continental Margin Magmatism
396
Aug. 6 

– 

Oct. 6, 2021
Reykjavik / Kristiansand
JRSO
Walvis Ridge Hotspot
391
Dec. 6, 2021 

– 

Feb. 5, 2022
Cape Town / Cape Town

JRSO

Agulhas Plateau Cretaceous Climate
392
Feb. 5 

– 

Apr. 7, 2022
Cape Town / Cape Town

JRSO

South Atlantic Transect
390
Apr. 7 

– 

June 7, 2022
Cape Town / Cape Town

JRSO

South Atlantic Transect 2
393
Jun. 7 

– 

Aug. 7, 2022
Cape Town / Cape Town

JRSO
---
Expeditions from previous scientific ocean drilling programs: