Applications to sail on IODP expeditions are submitted through the applicant's Program Member Office (PMO). Application requirements may vary by PMO, and they may have different deadlines than those posted below. An individual scientist's PMO is determined by the location of their employer or primary academic affiliation, not by citizenship or adjunct status. 
ECORD Science Operator
Expedition dates: August - September, 2022 (offshore)
Application deadline: May 14, 2021
Expedition 386 aims to test and develop submarine paleoseismology by recovering the continuous upper Pleistocene to Holocene stratigraphic successions of trench-fill basins along an axis-parallel transect in the Japan Trench.
The South Atlantic Transect is a multidisciplinary scientific ocean drilling project that comprises of multiple expeditions aimed at recovering complete sedimentary sections and the upper underlying oceanic crust along a slow/intermediate spreading rate Mid-Atlantic Ridge crustal flow line at ~31°S.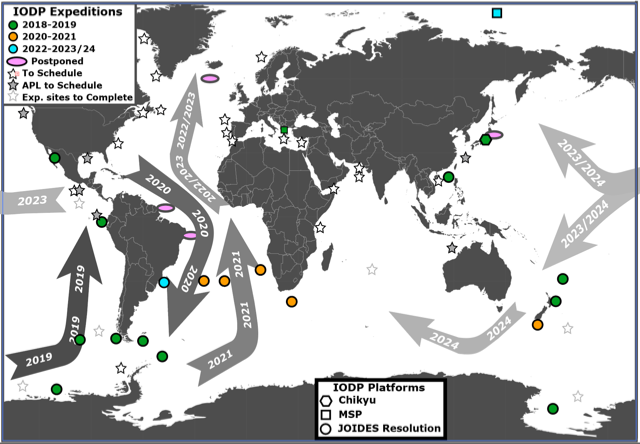 As approved by the JRFB in May 2020.
International Ocean Discovery Program (2013- )
(last update March 2021)
| | | | | |
| --- | --- | --- | --- | --- |
|   | JOIDES Resolution | Chikyu | Mission-Specific Platforms | Program Total |
| Expeditions Completed | 29 | 4 | 3 | 36 |
| Sites Visited | 130 | 6 | 13 | 149 |
| Holes Drilled | 386 | 19 | 22 | 427 |
| Cores Recovered | 9,990 | 204 | 939 | 11,133 |
| Deepest Hole Penetrated (m) | 1,806 | 1,180 | 1,335 | 1,806 |
| Shallowest Water Depth (m) | 98 | 1,939 | 20 | 20 |
| Deepest Water Depth (m) | 4,858 | 4,776 | 1,568 | 4,858 |
| Core Recovery (m) | 57,087 | 1,092 | 2,759 | 60,938 |
| | | | | |
| --- | --- | --- | --- | --- |
|   | JOIDES Resolution | Chikyu | Mission-Specific Platforms | Program Total |
| Expeditions Completed | 35 | 14 | 5 | 54 |
| Sites Visited | 145 | 38 | 67 | 250 |
| Holes Drilled | 439 | 95 | 115 | 649 |
| Cores Recovered | 8,491 | 927 | 2,676 | 12,094 |
| Deepest Hole Penetrated (m) | 1,928 | 3,059 | 755 | 3,059 |
| Shallowest Water Depth (m) | 95.5 | 885 | 23 | 23 |
| Deepest Water Depth (m) | 5,708 | 6,929 | 1.288 | 6,929 |
| Core Recovery (m) | 57,289 | 4,886 | 4,131 | 66,306 |
| | |
| --- | --- |
|   | JOIDES Resolution |
| Expeditions Completed | 111 |
| Sites Visited | 669 |
| Holes Drilled | 1,797 |
| Cores Recovered | 35,772 |
| Deepest Hole Penetrated (m) | 2,111 |
| Shallowest Water Depth (m) | 37.5 |
| Deepest Water Depth (m) | 5,980 |
| Core Recovery (m) | 222,704 |
| | |
| --- | --- |
|   | Glomar Challenger |
| Expeditions Completed | 96 |
| Sites Visited | 624 |
| Holes Drilled | 1,053 |
| Cores Recovered | 19,119 |
| Deepest Hole Penetrated (m) | 1,741 |
| Deepest Water Depth (m) | 7,044 |
| Core Recovery (m) | 97,056 |
Below is a sample of recent articles featuring IODP expeditions, samples, data, or related research. Please This email address is being protected from spambots. You need JavaScript enabled to view it. to request to post an article on this page. Journalists and communication professionals are encouraged to speak with the program's Media Contacts for photos or others resources.